Italian Meringue Macarons
The first time I tried making macarons I failed 14 times before I got a decent batch. Macarons are quite simply put one of the most difficult things to get exactly right. It takes a lot of practice and a deep understanding of your own oven and its settings before it really works out for you.
My recommendation is that you give yourself a mental preparedness that it will take a few tries before you get it exactly right. Practice is key here. Keep a journal to understand what your last mistake was. This is the way I finally landed on my successful batch.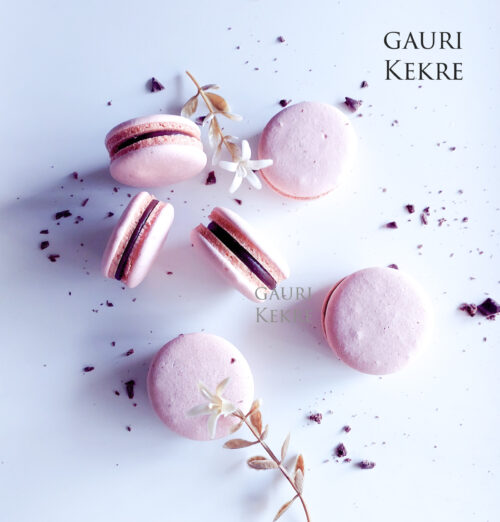 Now the Italian meringue method of making macarons is a bit more laborious. It helps if you have a stand mixer. If you don't have a stand mixer make sure you have someone to help you when you pour the hot sugar syrup into the whipping egg whites. Ask someone to hold the hand blender while you pour the hot sugar syrup or there is a risk of the hot sugar splashing and scalding you. Ingredients:
110 grams egg whites divided into 55g plus 55g at room temperature
150 g castor sugar
38g water
150g almond flour
150g icing sugar
Instructions: 1.) Sieve the almond flour and icing sugar together and remove the very big bits of almond. I also prefer to blitz the almond flour and icing sugar mixture in my food processor before I sieve it. This makes my macarons super smooth.  Add 55g egg whites to it and mix it together till it forms a stiff dough.
2.) Next start whipping the remaining 55g egg whites. Make sure the whipping blades and bowl are squeaky clean and bone dry. Whip till the egg whites reach a soft peak consistency.
3.) Add water to castor sugar and boil it till it reaches 118°C.
4.) Start whisking egg whites on full speed again. Now slowly pour the sugar syrup down the side of the whisking bowl in a thin stream till all the sugar is used up.
5.) At this point the whisking bowl feels hot. Keep whisking till it feels cool to touch and the meringue reaches a stiff peak consistency.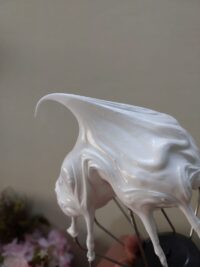 6.) Add a drop or two of your preferred gel color to the meringue.
7.) Now add the meringue to the almond flour icing sugar mixture in three batches and mix well each time using cut and fold method.
8.) Keep working the batter (macaronage) till it reaches a flowing ribbon consistency.
9.) Now pour the batter in icing bags. Pipe them onto a silicon mat. (Pro tip: Make sure the silicon mat is absolutely clean and dry.)
10.) Allow the macarons to dry for an hour or till a tough skin forms on the top of the shells.
11.) Preheat oven to 130°C and place the macaron tray in the oven. Bake for around 30 to 40 minutes. Check by wiggling the front macaron. If it still feels wiggly give it 5 more minutes. Otherwise take the tray out and let it cool down completely for around an hour or so. Then take the macarons off the sheet.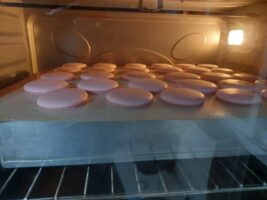 12.) Sandwich your macarons with your favourite filling and let them mature overnight for the best taste!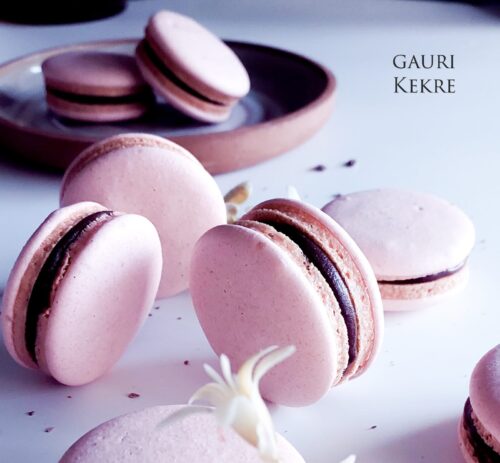 Enjoy baking these and do give me feedback about how it went for you! Happy bakesperimenting!